Quinta Brunson is Appearing as Oprah in 'Weird: The Al Yankovic Story'
The 'Abbott Elementary' Creator/Actor will play the icon opposite Daniel Radcliffe in the biopic, which chronicles the accordion-playing musician.
The casting reveals continue to arrive for 'Weird: The Al Yankovic Story'. According to a new picture, 'Abbott Elementary' creator, writer and actor Quinta Brunson is aboard the film, playing entertainment icon Oprah Winfrey.
She's pictured alongside Daniel Radcliffe, who plays comedy musician "Weird" Al Yankovic in a closet full of his colorful clothing.
Yankovic has enjoyed quite the career as the biggest-selling comedy recording artist of all time.
A five-time Grammy winner, his 2014 release 'Mandatory' Fun was the first comedy album in history to debut at #1 on Billboard's Top 200. He is one of only three artists to have had their own top 40 hits in each of the last four decades (the other two being Michael Jackson and Madonna, both of whom Al has parodied in his time).
On August 27, 2018, the Hollywood Chamber of Commerce awarded "Weird" Al with a star on the Hollywood Walk of Fame. He has also popped up in a host of movies, shorts, and TV series, either as himself or other characters, and might be best known for indie comedy movie 'UHF', which was released in 1989.
Oprah certainly has her own story – wrangling her way into a career as a TV talk show host, she's long since built a global empire in addition to winning awards as an actor and producer. According to the latest update from the movie, Brunson's role is more of a cameo.
The movie, which was spurred by Yankovic's decision to chronicle his "depraved and scandalous" life (he's probably joking on that front) will chart his days spoofing his fellow musicians. He wrote the script alongside director Eric Appel, who has worked on projects such as 'Silicon Valley' and various Funny Or Die shorts (the comedy company is producing the movie alongside Tango).
Radcliffe certainly looks the part, and the teaser showed him doing a fair approximation of Yankovic's trademark voice and singing style. Plus, he's clearly been learning his way around an accordion. And it certainly does its job, making you want to see more from the movie, which also features Evan Rachel Wood (as Madonna) Rainn Wilson (as radio personality Dr. Demento), plus Julianne Nicholson and Toby Huss (as Al's parents) among its ensemble.
And, according to the latest release, "an A-list cast of thousands their agents won't let us reveal."
Brunson has been celebrating some awards history recently, becoming the first Black woman to earn three Emmy nominations in the comedy categories in the same year for 'Abbott Elementary'. The high-school-based comedy has also seen high ratings and a quick second-season renewal from network ABC.
She also has credits including 'A Black Lady Sketch Show' and 'Miracle Workers', which stars Radcliffe.
'Weird: The Al Yankovic Story' will be on the Roku Channel this fall, though there's no strict date for its release yet.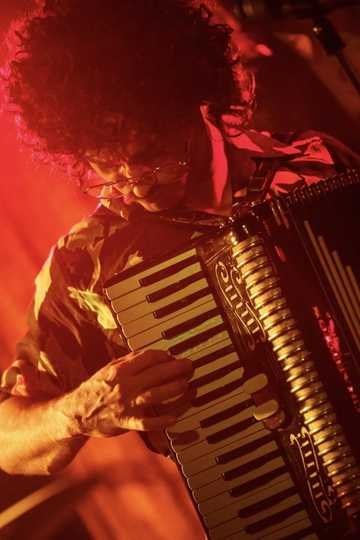 Exploring every facet of 'Weird Al' Yankovic's life, from his meteoric rise to fame with early hits like 'Eat It' and 'Like a Surgeon' to his torrid... Read the Plot