'She Said' Trailer Follows Reporters Uncovering Harvey Weinstein's Crimes
Carey Mulligan and Zoe Kazan play New York Times journalists Megan Twohey and Jodi Kantor, who broke one of the biggest stories in recent years.
When scandals break, especially those featuring sensitive subjects, it can sometimes take a long time for a movie to arrive that uses the case as the basis for drama.
There are times, though, that striking while the iron is at least still fairly hot works, and that topical consideration is key to 'She Said', which has its first trailer online just a few years after the events happened.
Starring 'Promising Young Woman's Carey Mulligan and 'The Big Sick's Zoe Kazan, 'She Said' is the story of New York Times reporters Megan Twohey and Jodi Kantor, who blew the lid off the Harvey Weinstein sexual misconduct scandals.
Universal snapped up the rights to the reporters' 2019 book, 'She Said: Breaking The Sexual Harassment Story That Helped Ignite A Movement' and moved quickly to adapt it.
Twohey and Kantor were investigating misconduct more generally in Hollywood when they began to zero in on Weinstein as a particular problem. The powerful producer, who had been involved with some huge movies, was also a notorious abuser, treating actresses like puppets he could manipulate, dangling career chances in return for sexual favors, or threats if they didn't go along with his whims.
The reporters had secret meetings, harrowing phone calls and private text exchanges with victims, as A-list actresses agonized over whether to go on the record. Many of those involved had been paid off to say nothing, worried that they would be sued if they went on the record.
It took months of work, digging up new sources, figuring out how to talk about the issue without anyone breaking their non-disclosure agreement.
Fortunately, there were enough people willing to talk about what had been happening, and as a truth that had been an open secret in the hallways of Hollywood began to come out, Weinstein attempted to fight back.
We know the results, though – Twohey and Kantor began publishing their story in 2017 and he eventually ended up behind bars (he's still facing more charges) and the reports (plus Ronan Farrow's work) helped launch the #MeToo and #TimesUp movements.
The cast here also includes Patricia Clarkson as the Times' investigations department editor Rebecca Corbett, and Andre Braugher plays the paper's executive editor, Dean Baquet.
Samantha Morton is Zelda Perkins, a former assistant to Weinstein who endured his abuse and later found herself bound by constricting privacy agreements, while the likes of Elle Graham, Maren Lord, Keilly McQuail, Maren Henry, Tom Pelphrey, Hilary Greer and Davram Steifler are all in the ensemble.
'Love Life' director Maria Schrader is behind the camera here, working from a script by Rebecca Lenkiewicz, who adapted Twohey and Kantor's book.
'She Said' will be in theaters on November 18th.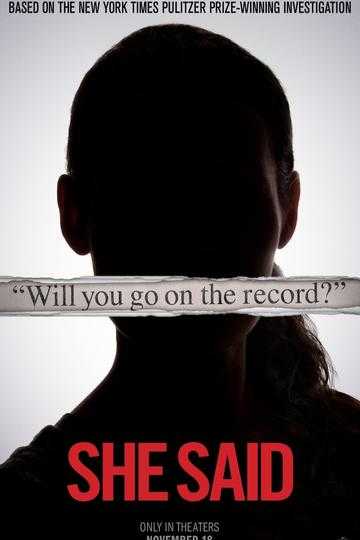 ""Will you go on the record?""
New York Times reporters Megan Twohey and Jodi Kantor break one of the most important stories in a generation — a story that helped launch the #MeToo movement... Read the Plot