'Paws of Fury' is an Animated Remake of 'Blazing Saddles,' Without the Laughs
Even with Mel Brooks involved, the movie fails to translate the classic comedy into a kids film but does feature a funny performance from Ricky Gervais.
Opening in theaters on July 15th is the new animated movie 'Paws of Fury: The Legend of Hank,' which is loosely based on Mel Brooks' classic comedy 'Blazing Saddles.'
The movie stars Michael Cera ('Superbad') as Hank, a troubled dog who is trained to be a samurai by his mentor, a cat named Jimbo (Samuel L. Jackson). Now, in order to protect a village of cats, Hank and Jimbo must battle with the evil Ika Chu (Ricky Gervais).
Co-directed by Rob Minkoff ('The Lion King'), in addition to Cera, Jackson, and Gervais, the talented voice cast also includes George Takei, Gabriel Iglesias, Djimon Hounsou, Michelle Yeoh, Aasif Mandvi, Cathy Shim, and Kylie Kuioka.
The result is an uninspired animated movie that tries to recreate the best moments from 'Blazing Saddles' but never makes the jokes its own and relies too heavily on the original source material without building on the actual characters and their journey.
The film begins by introducing us to a young Hank (Cera), whose life is saved by a Samurai cat named Jimbo (Jackson). Years later, when a warmongering cat named Ika Chu (Gervais) threatens to destroy the peaceful cat village where Jimbo lives, Hank arrives to help. Unsure of his own abilities, Hank trains with Jimbo in the ways of the samurai to defeat Ika Chu and save the village.
Since the animated movie is loosely based on 'Blazing Saddles,' the plot points are about the same, following an outcast samurai who saves a small town, instead of an outcast cowboy.
Michael Cera basically plays the Cleavon Little role, with Samuel L. Jackson playing the Gene Wilder surrogate. Ricky Gervais's Ika Chu stands-in for Harvey Korman, while Mel Brooks himself makes a voice appearance, playing a similar role to his part in the original, as the ruler of Kakamucho and Ika Chu's boss.
But even the involvement of Mr. Brooks is not enough to make this movie work. Although, I did appreciate that the filmmakers included all of 'Blazing Saddles' original writers in the credits including Brooks, Andrew Bergman and Richard Pryor, giving them the credit they deserve for the original work.
For those that don't know, 'Blazing Saddles' is one of the funniest movies ever made and included a now famous sequence of fart jokes. So, adapting it to an animated film for kids actually makes sense, but besides the flatulent humor, a lot of the movie's jokes and character development lands flat and doesn't inspire interest from the audience.
Of the cast, Ricky Gervais is clearly having the most fun and is really funny, adding a lot of his own public persona to the role. He plays the character as an ego-maniacal, insecure, know-it-all, not unlike his David Brent character from 'The Office.' Gervais is also a well-known cat lover in real life, which adds to the humor of his character as well.
Michael Cera has mastered his persona of playing a youthful, innocent, and naïve young man, which works well with the character of Hank. Cera's performance certainly makes Hank lovable, but unfortunately the screenplay doesn't allow enough time for the character to grow and mature.
His relationship with Jimbo is the most interesting, but again, the two characters are not given enough to do. The training sequences steal from 'Kill Bill' and 'Kung Fu Panda,' and don't feel fresh or new. Samuel L. Jackson was great casting for Jimbo, but I would have liked the character to have a more pivotal role.
'Star Trek' legend George Takei is always a welcomed addition to any project, and hearing his voice in this movie was a nice surprise. Takei plays Ika Chu's henchman Ohga, and has great chemistry playing off of Gervais. While his role is somewhat limited too, the filmmakers did find time to have him say his signature line, "Oh, my."
Director Rob Minkoff is no stranger to animation having directed one of the greatest animated films of all-time, 'The Lion King.' But 'Paws of Fury' lacks any of the gravitas or character development of his past work, and even the animation itself leaves little to be desired.
In the end, 'Paws of Fury: The Legend of Hank' is both a disappointment to 'Blazing Saddles' fans hoping for one last great movie from the mind of Mel Brooks, and also a disappointment to parents hoping to find a fun animated movie to take their kids to this summer.
Paws of Fury: The Legend of Hank' receives 1.5 out of 5 stars.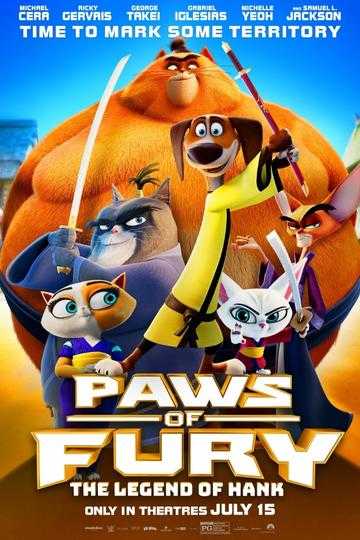 "Time to mark some territory."
1 hr 37 min
Jul 15th, 2022
Showtimes & Tickets
A hard-on-his-luck hound Hank (Michael Cera) finds himself in a town full of cats who need a hero to defend them from a ruthless villain's (Ricky Gervais) evil plot... Read the Plot